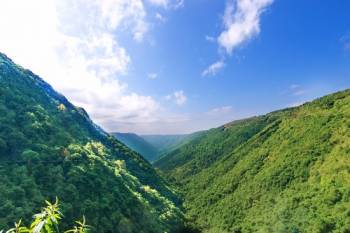 After breakfast proceed to Mawphlang Village for a visit to the Sacred Grove. A local and very knowledgeable guide will be assigned for you who will show you inside the forest and tell you about the various plant species and medicinal remedies.
Mawphlang Sacred Grove - The sacred-groves which have been preserved since time immemorial, are in sharp contrast to their surrounding grasslands. These groves are generally rimmed by a dense growth of Castanopsis kurzii trees.
Enroute:
Elephant Falls – Descend along the two successive waterfall, with its beauty and captivating formation no less to each other.
Mawkdok Dympep Valley View - A beautiful bridge known to the locals as the Duwan Singh Syiem Bridge, the entrance to the Sohra tourist circuit. From here the landscape abruptly changes into picturesque deep gorges.
**Option for the Adventure Seekers:
An option for a trek at the Historical David's Scott Pony Trail Path which is a 12 km easy to moderate level trek from Mawphlang to Lad Mawphlang.
David Scott Trail is an old trekking route that is counted amongst the most famous ones in Meghalaya. It is named after a British officer David Scott, who discovered and established it as a mule track to travel from Assam to Bangladesh. This one-day route extends up to 16 kilometres and takes just four hours to trek. Throughout the trail, trekkers are greeted by breathtaking vistas of mountainous streams, gurgling waterfalls, sprawling meadows, forest groves and traditional Khasi villages.
Evening arrive at Cherrapunjee for Overnight stay.